Dynamically Mapping Conflict in Syria
Helping Mediators in Syria achieve peaceful resolution through data.
Co-lead UX Designer
Co-lead UI Designer
Front-End Developer
Sketching
Iterative Prototyping
Wireframing
Competitive Analysis
Survey
Pen + Paper
Whiteboard
Adobe XD
HTML + CSS
D3.js
4 UX/Front-End
3 Back-End
2 Data Analysts
1 Project Manager
The Syrian Civil War has wreaked havoc and taken the lives of hundreds of thousands. Conflict mediators on the ground rely on organizations like The Carter Center to provide them with data in their quest for lasting peace.
"Topshots-Syria-Conflict" by Leal Olivas is licensed under CC BY-NC-ND
The Syrian Conflict Mapping Team at the Carter Center thus approached the Georgia Tech ICT4D Project Team that I was on from the course "Information and Communication Technologies and Global Development" to create a digital platform that will visualize data in a way that informs others about the Syrian Conflict in hopes to help with conflict resolution and achieving peace.
Thus, our question quickly became:
How could we visualize this data in a meaningful way that helps mediators achieve peace?
We ended up creating a mobile-friendly web-based geographic information system for dynamically visualizing and analyzing Syrian conflict data. This platform consists of interactive visualizations that help mediators view data in an understandable and meaningful way.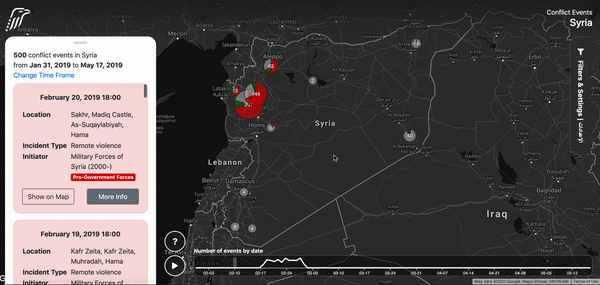 Check out the web app here!
Note: Make sure to select dates between November 2018 and May 2019
Note 2: Select View Developer Tools to see the mobile layout
We first met with the Syrian Conflict Mapping Team at the Carter Center's offices in Atlanta in order to understand their current processes for mapping conflicts and their requirements for this new tool that they wanted us to create.
After the initial meeting with the team, we identified the primary users, secondary users, what users currently keep track of in regards to the Syrian Civil War, and basic requirements for this new tool:​
What they keep track of:
Conflict events

Formation of armed groups and evolving relations over time

Sightings of weapons

Movement of civilians as a result of fighting

Historic and current areas of control throughout the country
Primary Users:
Mediators on the ground in Syria
Secondary Users/Stakeholders:
The Carter Center​

Those who read conflict updates

Those who ask for specific stuff
​
Basic Requirements for proposed tool:​
Must be easily shareable

Have the ability to toggle between English and Arabic

Be usable and accessible for people not accustomed to performing heavy data analysis

Have basic access control