Using AI-based tech interventions to help motivate senior adults to exercise more often
My teammate had been previously working on a project called LuminAI that uses the Kinect and Artificial Intelligence to capture someone's body silhouette and move a virtual avatar based on that person's movements. She and I then first explored various areas and user groups where we could leverage this technology to help solve and particular problem that occurred in that user group.
​
After some preliminary research, we found that senior adults ages 65 and older have a tendency to decrease their levels of physical movement, which can lead to an increased risk of problems such as physical injury and depression.
​
Thus, we wanted to figure out:
How could we help motivate senior adults to increase their physical activity?
LuminAI: an exer-gaming platform that uses Artificial Intelligence and the Microsoft Kinect to give senior adults an entertaining form of physical movement without risking injury.
The system comprises of three main parts, a main projection screen, a Participant App and an Admin/Instructor App. The main screen is a wall-size projection screen which would display routines for people to follow. And the contents of the main screen can be controlled by the mobile apps.
Exercise in 3 different ways
There are 3 different modes that users can choose from to start exercising:
​
1. Exercise mode: Participants follow a
pre-defined exercise routine.
​
2. Game mode: Participants move their body to interact with virtual objects to play games.
​
3. Instructor mode: Participants would follow a physical instructor who completely leads the exercise session.
Customize your workout based on your physical needs
Users can select how long and how intense they want their exercise session to be.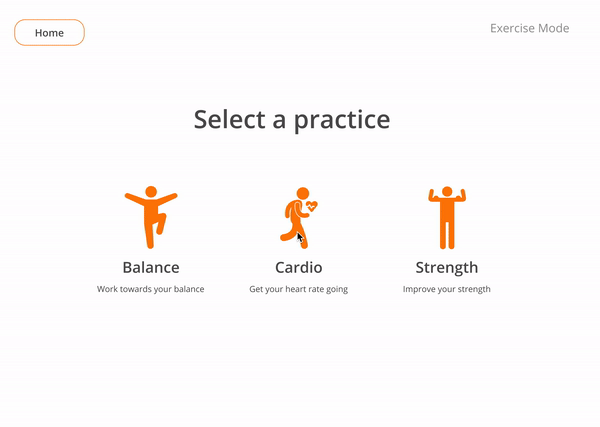 Use your mobile device for easy control while moving!
Users can use their mobile device to control the main interface at any point of their workout, particularly if they want to take a break or adjust any settings.
Exercise by yourself or with others!
The system allows for users to participate in an individual exercise session or join with others to work out together while an instructor/supervisor controls the system for them.
UX Design: Created a list of design implications from our findings, sketched potential design ideas for our solution, involved with creating user flows for all potential scenarios, created the initial wireframes, initial prototype, and final prototype of our solution, particularly the mobile app portion and the game mode feature on the desktop part of our solution.
UX Research: Conducted user observations of current physical activity classes for senior adults, conducted semi-structured interviews with senior adults living in senior living communities, created and distributed surveys, conducted feedback sessions on wireframes, conducted usability testing sessions on our initial and final prototype.
I'm still writing about the UX process that we followed to create this solution, but for now, please click the link below to view more details on this project.